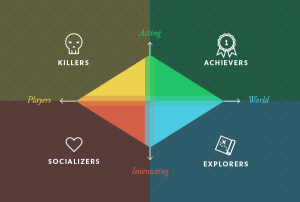 March 30th 2016 marked the first Gamification Think Tank Meetup in Barcelona.
The first monthly Think Tank was dynamic and full of lively banter.
We were fortunate enough to enjoy beautiful modernist surroundings for our first location, where slides of player type frameworks dominated the buzz around the first half  of our session.
Are Bartle's player types to be applied to gamification at all? Differentiation between MMO/gamers and users of a gamified solution or service.
Initial conceptualising on flow took us to ask questions such as: What entices the user to engage in an activity that is difficult but rewarding? What type or rewards, intrinsic and extrinsic, encourage us to continue?
The second half of our Think Tank focused on positive projects ranging from environmental to educational:
What's happening in other cities?
Environmental gamification services like Recycle Bank.
Education
Children's attention capacities.
Games created by kids, game like solutions for math and reading.
Philanthropy games for science and healthcare.
Check out the links below:
http://www.nailab.co.ke/startups/ninja-prep/